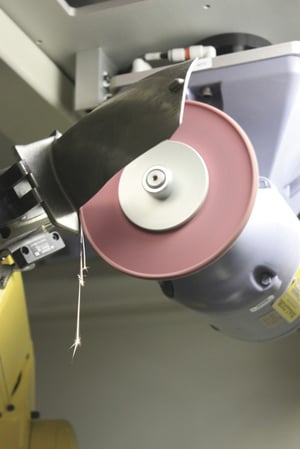 Smooth Touch Type 1 wheels are dense yet flexible and debur without changing a part's geometry. These features allow Smooth Touch to leave an accurate edge when used in robotic deburring cells.
Due to the cotton fiber construction, Smooth Touch wheels are capable of lasting up to 10x longer than unitized depending on the application. The signature cotton fiber material also gives Smooth Touch wheels the ability to constantly reveal fresh grain as they work.
Smooth Touch Type 1 wheels are available in 1″ to 6″ diameter sizes from 1/16" to 1/4" thick in coarse, medium, and fine grits, and are priced according to grit, size, and quantity. Samples and pricing are provided upon request.
To watch a video demonstrating the cushion action, flexibility, and finishing capabilities of Smooth Touch, click here. For even more information, click here to download the PDF Smooth Touch Data Sheet.