History of Stainless Steel
Amid the First World War, the British army discovered the internal surfaces of their gun barrels were eroding very quickly, resulting in gun failure, as well as wasted money and materials. Harry Brearley, a UK born metallurgist, was ultimately assigned this problem by a small gun manufacturer in 1913. After many attempts to procure an erosion resistant steel, Brearley finally created a steel that contained 12.8% chromium and .24% carbon, resulting in the worlds first Stainless Steel. Harry immediately saw the potential for success in the cutlery industry and started to produce this newfound steel at a local cutlery called Mosley's Portland Works in Sheffield, UK. After this initial discovery, improvements on stainless steel continued rapidly and the metalworking world as we know it was changed forever.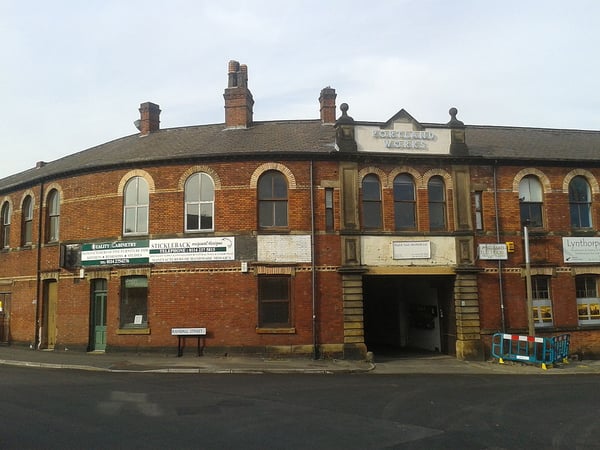 Portland Works in Sheffield, UK, where stainless steel was first manufactured
Large Users of Stainless Steel
There are many industries that use Stainless Steel, we'd like to highlight the Cutlery and Kitchenware, Oil and Gas, and Power Generation industries. The Cutlery and Kitchenware industry is where stainless steel made its humble beginnings. Some of the finest cutlery in the world is made of stainless steel, 410 and 420 stainless are typically used for knives, 304 for forks and spoons, and the more ductile steels that require molding are used for grills, sinks, and more. Stainless is easy to clean and does not corrode, making it ideal for the restaurant industry.
In the Oil and Gas Industry, Stainless Steel has been used for storage tanks, pumps, and valves – the durability of stainless can handle all types of usage. Stainless Steels high resistance to corrosion at all temperatures allows for the storage of hazardous liquids and acids.
Lastly, the Power Generation industry is not to be forgotten. There are several methods of power generation including hydro, solar, and wind…all these methods use stainless steel in more than one way. Stainless Steels composition allows it to withstand all types of elements and exposure ensuring the power is generated in the most optimal ways. Its safe to say that these industries have an impact on our daily lives even in the simple form of a fork and knife.
Current State of Stainless
Over the last few years COVID 19 has played a major role in the steel industry, causing prices for rolled steel to inflate to its highest in fourteen years. This is all due to the major economic impact that COVID has had on industries across the globe, supply chain issues and inflation seem to be the major components driving prices up. Steelmakers have seen a significant increase in profits over the last few years as the demand for steel is still high, while the price also sees a steady increase. However, supply is starting to get low due to supply chain issues, experts believe that the demand for steel will have to decrease, and supply chain issues will have to cease for steel prices to lower.
Cutting, Grinding, Deburring, Finishing Stainless Steel
When fabricating with stainless steel, finishing welds properly will insure the metal keeps its stainless qualities. During the welding process, stainless steel's abilities to resist oxidation is diminished. By finishing the weld properly, an oxide coating forms and restores the rust resisting properties.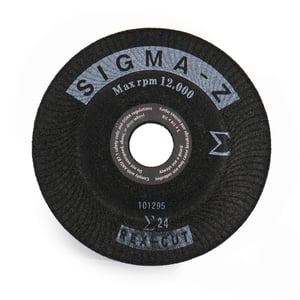 For heavy weld removal and beveling plates, we recommend Sigma Z. The premium grain and bond combination gives it the ability to remove more 304 stainless steel per minute compared to other leading wheels on the market. So if you want to grind a lot of stainless fast, this is your wheel.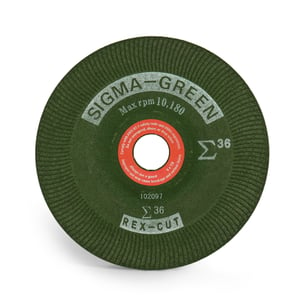 For medium sized welds Sigma Green Wheels are our choice. Constructed of a zirconium and aluminum oxide grit mixture in a specialty bond, these wheels grind very smooth and are noticeably quiet with a high metal removal rate.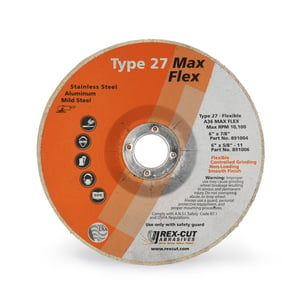 As a second finishing step to achieve a #4 finish or to grind and blend small welds, Max Flex will do the trick. These grinding/blending wheels are constructed with our cotton fiber material, which allows for optimum blending control and leaves a very consistent high quality finish. More information on stainless steel finishes is available here.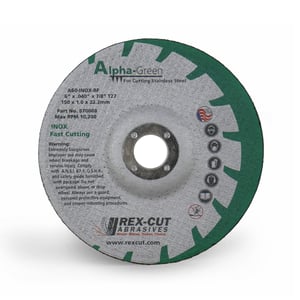 For cutting, we offer our Alpha-Green wheels which are manufactured with an INOX formula specialized for stainless steel. Alpha-Green cuts extremely fast and cool on many applications including pipe, tubing, rod, and sheet metal.
When deburring, the key is to remove burs and finishing edges without altering the part geometry, we make Type 1 Wheels and Mounted Points specifically for this. Both our Mounted Points and Type 1 wheels are manufactured with cotton-fiber which has a cushion action, allowing for controlled metal removal. Rex-Cut Mounted Points and Type 1 Wheels are available in different hardnesses and grinds to match the amount of metal you need to remove and the finish your job requires.
If you are looking for easier ways of finishing stainless, contact our experts and we might be able to help.