Grinding and control go hand in hand when fabricating stainless steel. Fast, even grinding leads to higher productivity. Although different alloys require special treatment for the desired end application, all types of stainless have a material hardness and heat sensitivity that requires special care and the correct tooling for operators to succeed.
Proper grinding begins with a power tool that has sufficient power and torque paired with an advanced abrasive wheel to conquer stainless steel's eccentricities. Most stainless fabrication shops already have a selection of powerful grinding tools for the job but lack the correct abrasive to match. Look for abrasive wheels for stainless steel that:
Have a high metal removal rate
Work at high speed without glazing
Stay cool to prevent part distortion and bluing
Are easy for the operator to control to prevent chatter and gouging
A poor abrasive will leave an operator pushing the wheel to compensate for the slow metal removal rate and result in a trash can full of gazed wheels and a part that is blued from the excessive heat. The time to rework a distorted and blued part along with constant abrasive reordering is a major loss in time and money for any business. The increased working time also results in potentially dangerous operator fatigue.
Instead of falling into this common fabrication trap, invest in the proper abrasive wheel that will be long-lasting and is tuned to the needs of stainless steel. Premium grains like zirconia remove metal faster and will cut lead time in half. Faster grinding wheels require less contact time with the metal. Less time spent grinding mitigates heat buildup, reduces operator fatigue, and decreases mistakes. Selecting a wheel suited for rapid stainless grinding will increase the efficiency and profitability of fabrication.
Tests show Sigma Z not only grinds the most stainless steel per minute but also has great wheel life.
Sigma Z removes an average of 24.06 grams of 304 Stainless Steel per minute.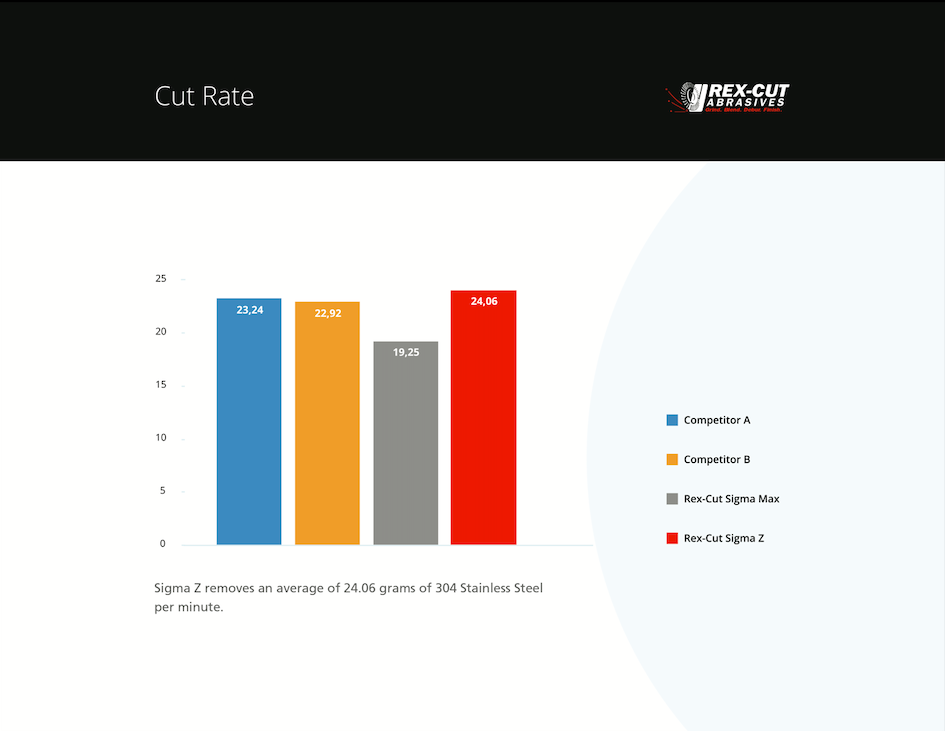 The 4-1/2" Sigma Z removes on more 304 Stainless Steel per minute compared to other leading wheels on the market.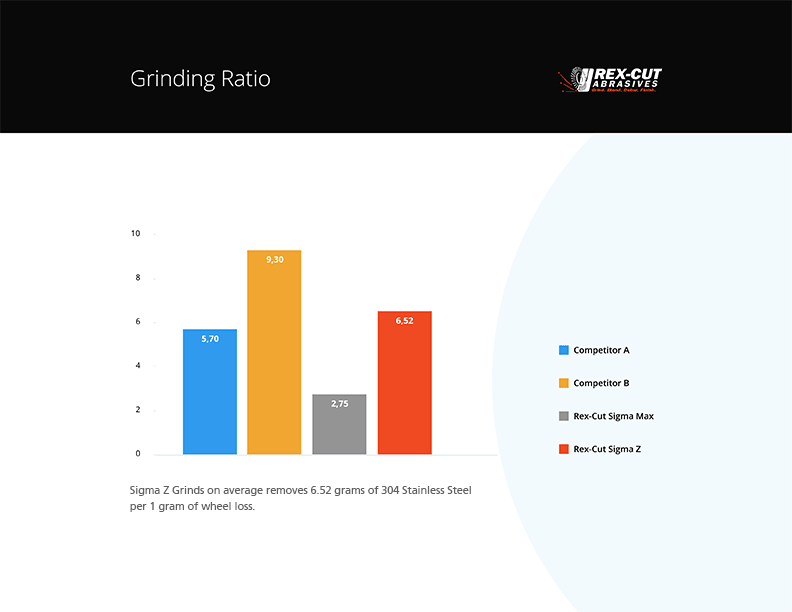 Sigma Z Grinds on average removes 6.52 grams of 304 Stainless Steel per 1 gram of wheel loss.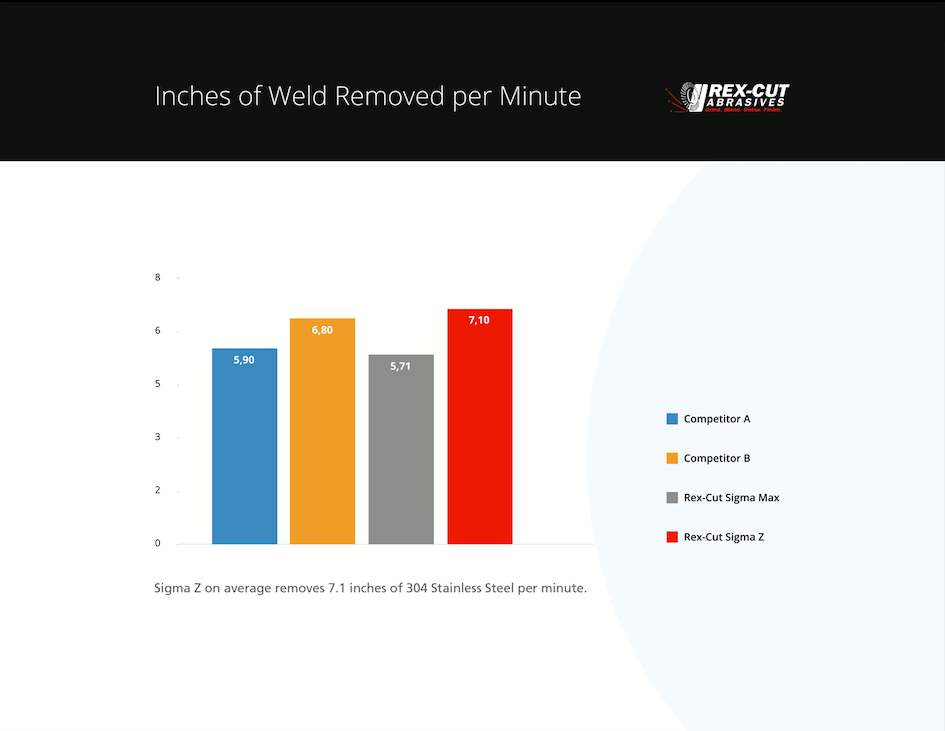 Sigma Z leaves a Surface Roughness of 230 on 304 Stainless Steel.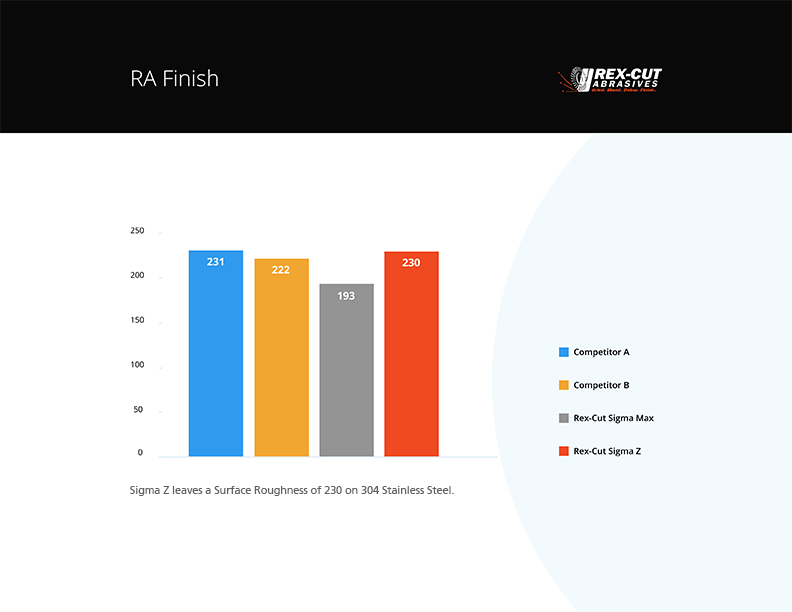 Sigma Z is engineered to remove stainless steel at a high rate with a noticeably smoother and chatter-free operation to keep grinding operators safely working at full capacity. Put worries of overheated and distorted parts in the past.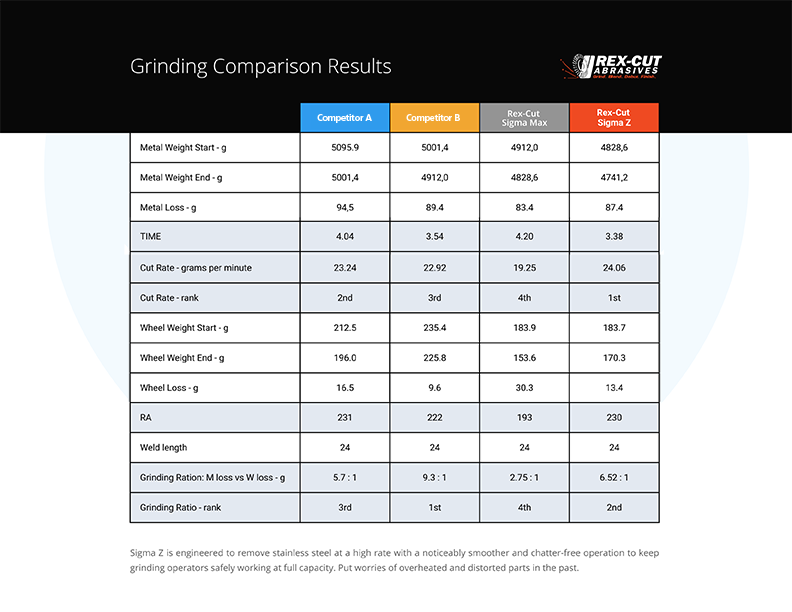 Download for free the full comparison for the Sigma Z grinding wheel below.