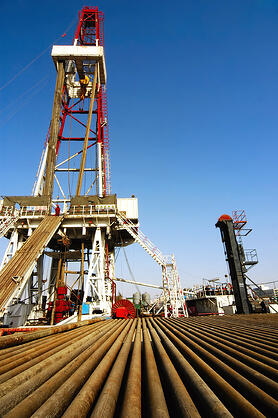 In an oilfield or on a drilling rig, when a piece of pipe breaks loose and falls down a wellbore hole, this is known as a "fish." Recovering a fish from a wellbore is known as "fishing"—a colloquial name for an expensive and complicated process. Fishing usually involves placing a specialized tool (known as an overshot) with specialized grips designed to capture the broken pipe. But this is not a cost-effective process. Studies have shown that fishing costs account for 25% of drilling operational costs worldwide[1].
When a drilling rig is moved, a chain of pipes (known as a string) is pulled out of the wellbore, disassembled, cleaned and inspected before being put to use at a new drilling site. The inspection of these pipe joints is essential, considering the substantial weight placed on each joint as a string is hanging in a wellbore. One failure and it's time to go fishing.
The process to inspect these joints is known as Non-Destructive Testing (NDT). It involves cleaning the pipe threads of a joint to remove threadlock sealant, corrosion and other debris in order that the threads can be inspected and placed under x-ray to discover cracks and other signs of stress.
It is this cleaning process where the smallest of changes can have the largest impact. When cleaning threads, it is very easy to deform threads and cause the very issues you want to find. That's why the right selection in abrasive wheels can streamline this cleaning process, prevent pipe loss, and drive down both time and materials cost.
The Right Process to Remove Threadlock Sealant
Abrasive wheels are used to remove threadlock sealant and other excess material to ensure successful inspection of the joint. Pipe thread patterns come in many forms including V-threads, 8-and 10-round threads, and buttress threads. To prevent thread deformation, the wheel must be shaped to match the thread pattern. To shape a wheel, we recommend placing a diamond file in a vice, then pressing the edge of the wheel to it at an angle. Run the wheel until the proper shape is formed. Repeat this process on the other side of the wheel. This shape will enhance the removal performance of the wheel as it fits down into the groove of the pipe thread. Rusty Covert, the Rex-Cut Texas Rep, demonstrates how Type 1 shaping can be done in this video.
Wheel Selection: Critical to Success
Typical wheels are made from non-woven nylon. Non-woven nylon consists of an open nylon filament web that has an abrasive grain mounted to it using a bonding agent. The problem with these types of wheels is that you cannot shape them to match pipe threads as described above. This is due to the fact that non-woven nylon is not dense enough to be effectively shaped.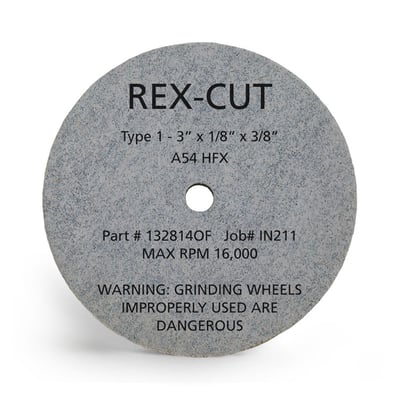 We recommend a non-woven cotton fiber that's denser than non-woven nylon. It's the type of material used in Rex-Cut wheels and it's why Rex-Cut products last longer with greater efficiency. When a Rex-Cut wheel is properly shaped to match the pipe thread that it's cleaning, the overall cleaning process is 25-30% faster than cleaning with a non-woven nylon wheel. In addition, a single Rex-Cut wheel typically lasts as long as 3-4 non-woven nylon wheels.
Cleaning and inspecting pipe in the oil drilling industry is a necessary process. Using the correct wheels can help make this procedure more efficient, saving inspection companies time and pipe loss.
For a pdf list of cotton fiber wheels often used in the oilfield industry, click here.
---
[1] Short, JA, "Prevention, Fishing, and Casing Repair," PennWell Publishing, (1995), as referenced in "Landing the Big One—The Art of Fishing," Oilfield Review, (Winter, 2013), 24, no.4, http://www.slb.com/~/media/Files/resources/oilfield_review/ors12/win12/3_fish_art.pdf