Consult with our experts to select the appropriate abrasive and have it manufactured to suit your stainless steel, aluminum, mild steel, and exotic metal needs.
Knowing what will work best as an abrasive solution no longer needs to be a long series of trial-and-error attempts in the metalshop. Starting with the needs of the application, experts at Rex-Cut develop and create custom abrasives using a signature cotton-fiber abrasive material.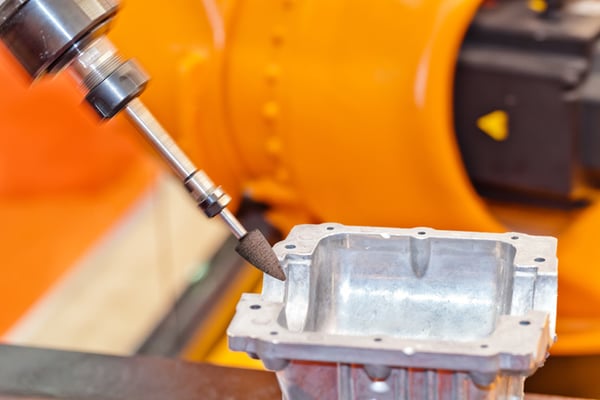 How Cotton Fiber Abrasives Are Made
From heavy grinding wheels to mounted points for deburring, cotton fiber abrasives are made of bonded laminate layers of non-woven cotton fabric that are embedded with abrasive grain. This unique process has been used by Rex-Cut since 1928 to provide products in a wide variety of hardness and differing grits that will grind and finish in one operation.
Using a proprietary bonding agent, the cotton layers are bound together to create dense-yet-flexible wheels that are further customized to suit specific industry needs. For a quick look into cotton-fiber abrasives, a 30 second video is available here.
Abrasive Performance Indicators for Products
Stocking cotton fiber wheels wthat can take on a variety of tasks saves workers time, and using properly matched abrasives is the key to a efficient finishing line. To find the best performing abrasive products, three factors need to be matched to the application: bond, grain type, and grain size. The Abrasive Recommendations chart covers widely used products based on industry application.
Each of the four types of bond — Soft, Medium, Hard, and Very Hard — needs to be matched to the task and impacts how effective the abrasive will be. Each bond has the following characteristics:
Soft — GFX: Flexible latex bond for light deburring, blending, and finishing in one operation
Medium — JTX: Medium resin bond for light deburring, long life
Hard — MTX: Hard resin bond for light and medium stock removal, long life
Very Hard — NTX: Hard resin bond for medium stock removal
Abrasive grains are embedded into the cotton fiber to provide a long-lasting, cool-action grinding process. The available grains for cotton-fiber abrasives are selected for coarseness and friability to suit the application. Grains are marked as follows:
A — Aluminum Oxide: Tough grain with low friability, exposes new sharp edges as it breaks down, a top choice for many metal types
C — Silicon Carbide: Very hard, aggressive grain
The grain type is then further divided into options for grain size that relates to coarseness:
Coarse — 16, 24, 36
Medium — 54, 80
Fine — 120, 180
Very Fine — 320
Cotton-fiber abrasives consistently reduce finishing steps and the need to switch tools and change abrasives often. They have optimum operator control, giving the ability to grind and blend or debur and finish without changing part geometry.
Multiple Applications
Cotton fiber wheels are used across the world in dozens of industries for light removal, deburring, blending, and finishing. The Type 1 Laser Braze Finishing Wheel tackles two steps in one making it an innovator in the automotive industry. It quickly and effectively removes braze, flux, and oxides, leaving a body-in-white finish ready to be painted.
The multiple shapes, grain, and bond combinations available make cotton fiber wheels true workhorses. One example is The Aluminator, which serves both food manufacturing and boat building. The cotton fiber is naturally non-loading and requires no lubrication. This saves operators from costly downtime when grinding aluminum on ship bodies or aluminum food processing equipment. The wheel leaves a consistent finish without the need for wax or other aids.
Aerospace, automotive, jewelry, and tool and die industries also benefit from the signature Cotton Fiber Mounted Points. Available in a variety of grits and bond styles, this abrasive tool enables controlled metal removal that will clean, debur, and finish all in one step.
Ongoing Benefits
For production lines with hand finishers or robotic deburring machines, the controlled removal of metal without changing part geometry is just one of the many benefits of cotton fiber abrasives. Other benefits include:
Fast deburring and finishing in one operation
Burr removal without changing part geometry
Non-loading on aluminum, brass, and non-ferrous metal
Suitable for automatic and manual applications
Finish braze at twice the rate of unitized wheels
Longer life than other non-woven products
Superior surface finishing on steel and aluminum in a one-step grinding and blending operation
Available in wheels, mounted points, finishing sticks, and quick-change discs, there are cotton fiber abrasives ready for the needs of pipe workers, automotive and aerospace manufacturers, shipbuilders, and nearly any metal fabricator looking for a long-lasting abrasive. A 30 second video on why metalworkers choose Cotton-Fiber abrasives is here.
Customization
Cotton fiber products support a wide variety of applications and are not limited to what is listed inside the catalog. The experts at Rex-Cut are able to go beyond giving advice and work directly with customers to develop and manufacture custom abrasive products for their production needs.
To see if Cotton-Fiber can help with your applications, contact us here.