Choosing the right tools and materials are the most critical factors when it comes to the time it takes to finish a project, and ultimately, the quality of work. Nowhere is that more apparent than in the grinding disc you use to finish your project.
Of course, you're looking for a high-quality product that is affordable, reliable, durable, and will get the job done the way you want it, every time. So how do you know which one to choose to get the job done right? Let's break down the differences between zirconium discs and ceramic discs, by looking at the characteristics of each, and determining which disc best suits your needs.
The Ins and Outs of Zirconium Discs

Zirconium, or zirconia alumina, is a mix of zirconium dioxide and aluminum oxide.It is most often used in metal fabrication shops as it is an excellent choice when it comes to removing welds and blending on hard metals, including carbon steel, stainless steel, and titanium.
Zirconium performs well under higher pressure, while retaining a consistent cut rate and surface finish through the life of the disc. Zirconium will outlast and outperform aluminum oxide, especially when it comes to aggressive grinding.
The Ins and Outs of Ceramic Discs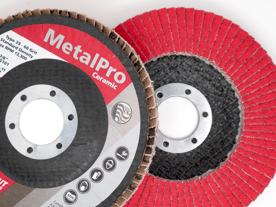 Ceramic grain is a synthetic abrasive that is extremely hard and durable. It has a longer lifespan than zirconium, which means even at a higher cost, ceramic could save you money in the long run. Ceramic flap discs are ideal when it comes to grinding most metals and work best with moderate pressure.
The shape and structure of the ceramic minerals give the discs their sharp grinding edge. It is also how it maintains its cutting power and stability over use.Ceramic is used to manufacture many different types of abrasive discs, including fiber discs, and flap discs.
Zirconium Discs vs. Ceramic Discs
Choosing between these two types of abrasives comes down to two questions:
How long will the abrasive last?
How aggressive do you need your abrasive to be?
Both zirconium and ceramic discs are exceptional choices depending on your project needs. Here's a cheat sheet to remember each type when it comes to your next project: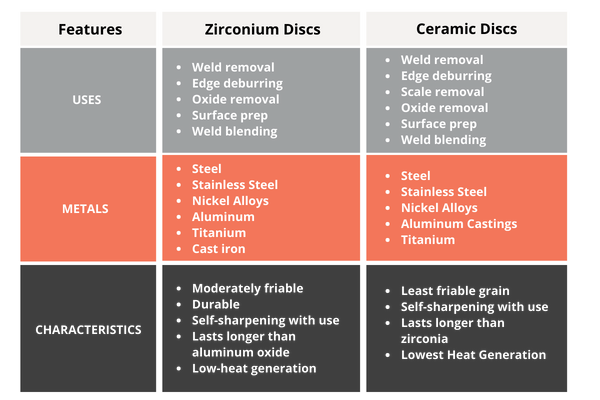 The New Rex-Cut MetalPro Line
In recognizing the value in each type of abrasive tool, Rex-Cut is releasing the new MetalPro line of coated abrasive products.
Rex-Cut, known for its quality products and unmatched level of service, is constantly striving to bring affordable, reliable, and durable products to help fabricators get the job done. It's why we're launching the MetalPro Ceramic Flap Disc and the MetalPro Zirc Flap Disc.
For more information about the Rex-Cut MetalPro Ceramic Flap Disc and the MetalPro Zirc Flap Disc, contact us today.