Removing Sharp Edges in one Run
This short video demonstrates a time saving technique for dulling edges on sheet metal. There are numerous ways to smooth sharp edges, but we find this the easiest. This method finishes the top and bottom edges of the sheet metal in one pass instead of smoothing each edge separately.
Tim Borges, North American Distribution Sales Manager, demonstrates how to smooth the edge of stainless steel sheet metal by using a W222 mounted point.
Products used: W222 Mounted Point - A54GFX-NC (part no. 339873)
Step 1. – Secure the sheet metal to prevent slipping.
Step 2. – Use a die grinder with the mounted point and simply run the point over the edge of the sheet metal.
Step 3. – Repeat. Run the point over the other sides to break those sharp edges. As the groove in the point wears, just move down the point to create a new groove, and so on.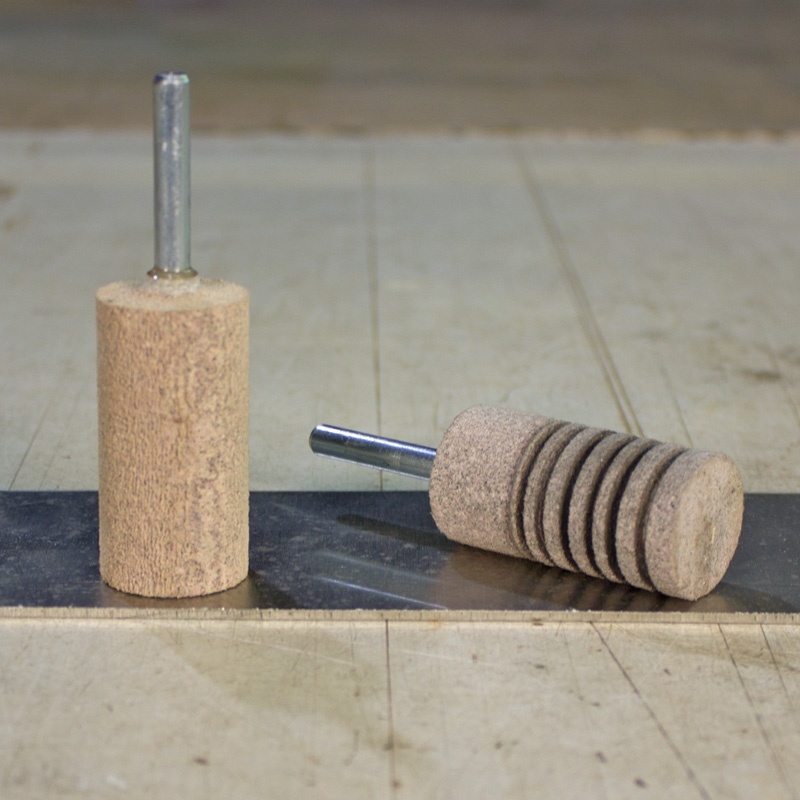 Finishing More Complicated Edges
New, cut, punched, machined, or molded metal will have sharp edges. For safety, function, or aesthetic reasons, deburring and smoothing is often required. The edge you are looking to finish isn't always a straight line that's easy to access. When deburring or edge breaking a punched hole, laser cut, or an intricate part, a W222 shape might not be the best point for your application. A smaller tapered point could be more appropriate. We manufacture cotton fiber points in many sizes and have a shape chart with dimensions and rpms available for download here.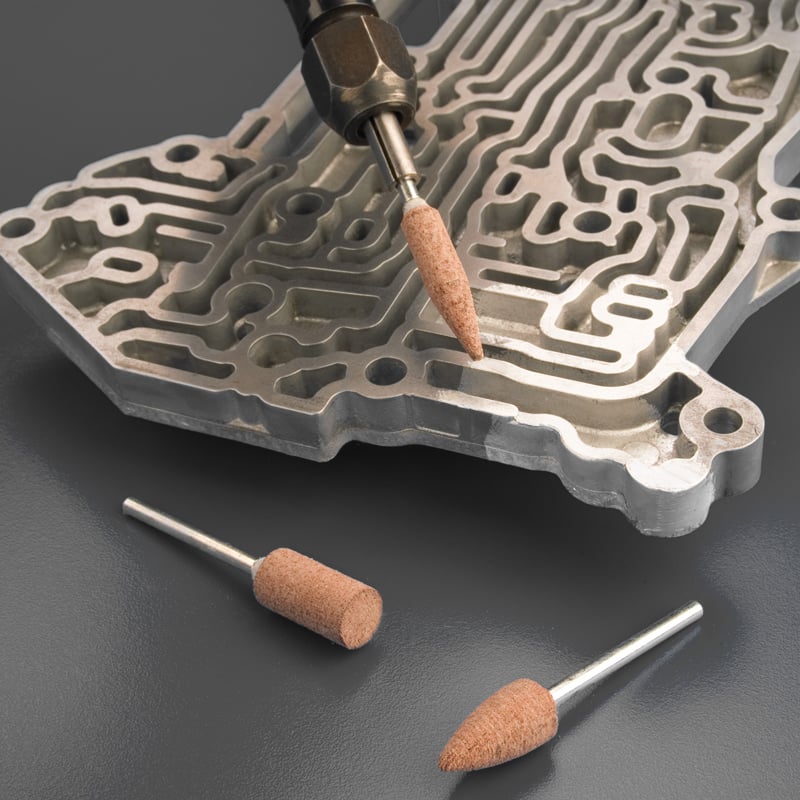 A54GFX is the grit and bond of the cotton fiber mounted point used in this video. Many different grit and bond combinations are available to suit heavy to light metal removal on stainless steel, aluminum, mild steel, brass, titanium, and more.
Rex-Cut Cotton Fiber Bonds
Soft — GFX:

Flexible latex bond for light deburring, blending, and finishing in one operation
Medium — JTX:

Medium resin bond for light deburring, long life
Hard — MTX:

Hard resin bond for light and medium stock removal, long life
Very Hard — NTX:

Hard resin bond for medium stock removal
Rex-Cut Grits
Coarse — 16, 24, 36
Medium — 54, 80
Fine — 120, 180
Very Fine — 320
An overview of our abrasive specifications goes into more detail.
For applications requiring heavier stock removal, such as small weld grinding and blending, Cotton Fiber Max Mounted Points are an excellent choice. Manufactured with extra grain for faster metal removal, they excel for weld grinding, blending, as well as more aggressive edge breaking.
To dive deep into selecting the right point for your application, visit this detailed blog post.