We have just launched a new line of cotton fiber mounted points for rapid stock removal with a low roughness average, Cotton Fiber Max.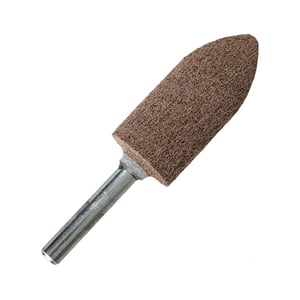 Cotton Fiber Max Mounted Points are manufactured with extra aluminum oxide grain in a specially formulated bond and can reduce grinding steps for various fabrication applications. The new points are a more aggressive solution than the standard cotton fiber points and leave a much better finish compared to resinoid points on all metals.
These new points

are suitable for grinding and blending stainless steel, aluminum, and numerous other metals.
"The new Cotton Fiber Max Mounted Points remove 85% more stainless steel and 46% more aluminum than their standard cotton fiber counterparts. If metal removal is your goal, we suggest Max Mounted Points." states Bob Costa, President of Rex-Cut Abrasives
Cotton Fiber Max Mounted Points are available 36 grit in various shapes. We have a mounted point shape chart showing availability here.