Grinding and finishing can be the most time-intensive operations for any metalworker. Every extra minute spent grinding with an inefficient abrasive wheel or adding finishing steps to improve a poor surface finish left by another grinding wheel is time wasted and money out of a shop's pocket. Luckily, abrasive technology has advanced to meet the growing needs of metal shops both big and small.
Instead of losing time to swapping out multiple wheels to grinding and finish large welds or managing the costly demands of restocking abrasives, invest in the new Sigma Z wheel to boost your shop's performance.
Grinding Wheel Fundamentals
Abrasive technology has changed, but the recipe for a quality wheel remains the same. Wheels are composed of a specific abrasive grain held in place with a bonding agent. To select a grinding and finishing wheel assess the following parts of its composition in relation to the task:
GrainType: This is what does the actual cutting and should be best matched to the part material.
Grain Size: The size of the grit determines the removal rate.
Bond: The bonding agent is responsible for holding the grains in place and sustaining a wheel shape.
High-performance wheels have grains that stay sharp with minimal dulling when used on a part. Grains are selected based on hardness, strength, and impact resistance. Three of the most common abrasive materials are the following:
Aluminum Oxide is strong, blocky, and dulls rapidly. It is the most common abrasive chosen for prepping carbon steel, alloyed steel, brass, and wrought iron.
Zirconia Alumina is a harder, sharper grain that results in longer life and increased speed making it a good choice for thicker stock.
Ceramic Aluminum Oxide is a grain with increased hardness, toughness, and a unique grain shape resulting in a uniform cutting action with a high per wheel cost to match.
Download the abrasive grain chart to read in more detail.
After selecting a grain in the appropriate grit, the bond material needs to be matched to optimize wheel performance. When these two factors are appropriately matched, the bond wears synchronously with the grain allowing the wheel to cut evenly and continuously expose new grains making grinding an efficient step in part production. In short, the abrasive grain's action is dependent upon the bond used by the manufacturer. With years of research and testing, Rex-cut developed a zirconia wheel that is a perfect pairing of grain and bond to ensure you decrease lead time, maintain tight tolerances, and have a more efficient workflow.

A New Wheel To Do More
Superior material removal along with cool grinding can only come from a wheel manufactured with the right of abrasive and the best bond for the job. At the forefront of this abrasive technology is Sigma Z. The Rex-Cut Sigma Z wheel is manufactured with zirconia grain that delivers a chatter-free grind on a wide variety of alloys.
The 100% Premium Grain is matched with a new Sigma Bond. This proprietary combination was developed for metal fabricators looking for a wheel that can rapidly remove material without sacrificing finish quality. Sigma Z grinds the most stainless steel per minute compared to all other wheels on the market today and does so without warping or discoloration.
From concerns about surface impurities on stainless steel to fast removal of stock on the heaviest of grinding jobs in shipbuilding and foundry work, the Sigma Z wheel provides a smooth and quiet operation at a price suited for any size metal shop. Its ease of use is the definition of operator-friendly.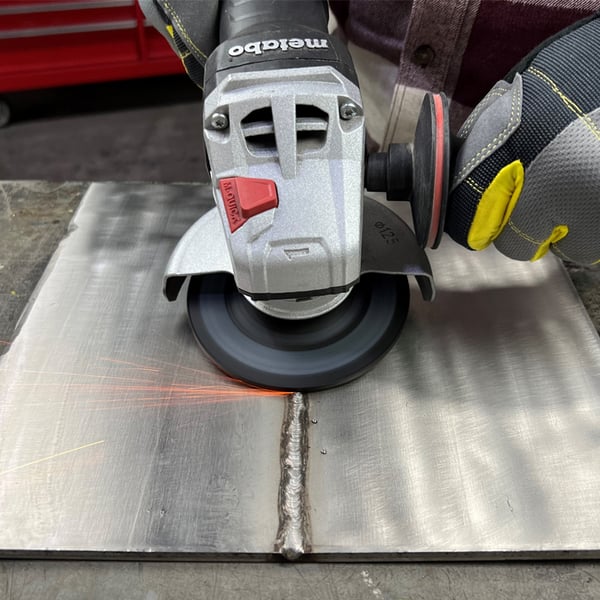 Benefits are in the Details
The right grinding wheel is a balanced combination of cutting speed and durability. When put to a durability test against the industry's top sellers, Sigma Z has 59% more life and removes more than 30 inches of weld bead in half the time.
The Sigma Bond keeps the wheel working at full capacity while running at high speeds and there is no need to worry about the trash can filling up with worn-down wheels. Even when working on a seemingly endless grinding job, the Premium Abrasive lasts and will not glaze over. No matter the job in front of you, a long-lasting wheel is never the wrong answer.
Sigma Z is a versatile tool and best for a long list of commonly used metals including
Stainless steel
Carbon steel
Galvanized steel
Hard face
Titanium
Nickel alloys
Superalloys
Available in 24 Grit and the wheel sizes below, there is no better time than now to upgrade to Rex-Cut's new Sigma Z wheel.
| | | |
| --- | --- | --- |
| Size | Spec | Part Number |
| 4-1/2" x 1/4" x 7/8" | 24 | 730030 |
| 4-1/2" x 1/4" x 5/8-11 | 24 | 730030 |
| 5" x 1/4" x 7/8" | 24 | 730031 |
| 5" x 1/4" x 5/8-11 | 24 | 730030 |
| 7" x 1/4" x 7/8" | 24 | 730033 |
| 7" x 1/4" x 5/8-11 | 24 | 730030 |
To place an order, please contact your local distributor.