Rex-Cut Type 27 Max Flex Wheels are flexible for blending and finishing flat and contoured surfaces in one step. Providing a wide surface contact area for optimum blending control and a uniform finish, these abrasive discs can be used at a 45°angle for increased cutting and at a 30°angle for smoother finishing.

Watch this flexible wheel in action below.

This video shows the Type 27 Max Flex, our flexible blending and finishing wheel, removing a weld on an aluminum plate. As it works, you can see the 7" Max Flex conforming as it runs. The true flexibility of this grinding wheel leads to a better surface finish, allowing the user to blend and finish with one disc.

In the next shot, we see Max Flex taking down the rest of the aluminum weld from a side angle. This view shows Max Flex has no backing that could gouge the work surface. The surface finish Max Flex leaves stays consistent throughout the life of the wheel.

Aluminum stands no chance, this Cotton Fiber disc is naturally non-loading.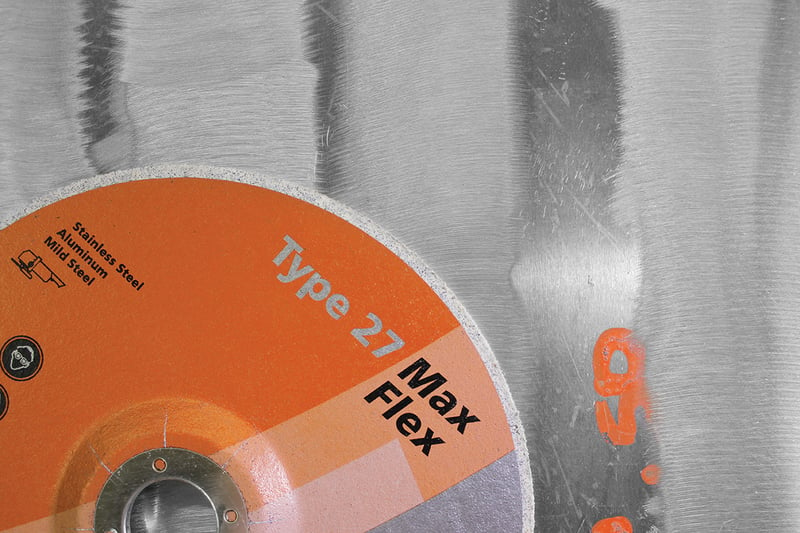 Product Features:
Consistent finish throughout life of wheel
No backing that could gouge work surface
Blending and finishing on both flat and contoured surfaces
Blend and finish with one disc
The true flexibility leads to better surface finish
Non-loading on aluminum