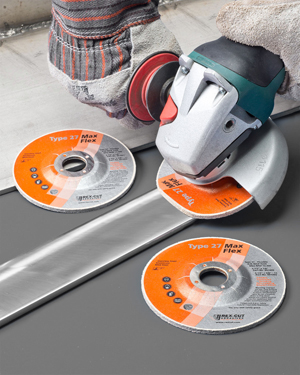 We are proud to introduce the newest addition to our Cotton Fiber line, Type 27 Max Flex. These new flexible abrasive wheels are designed for blending and finishing stainless steel, carbon steel, and aluminum surfaces in just one-step.
The Type 27 Max Flex replaces our previous Cut-N-Finish™ flexible discs. Because this new product flexes and provides a wide surface contact area, the Max Flex leaves a uniform finish and gives optimum blending control. Max Flex can be used at a 45°angle for increased cutting and at a 30°angle for smoother finishing.
Due to the cotton fiber construction, Max Flex wheels constantly reveal fresh abrasives and produce a consistent finish throughout their life. They are available in 4-1/2", 5", and 7" sizes in A36 and A54 grits.
Rex-Cut Type 27 Max Flex Cotton Fiber Wheels are priced according to size, grit, and quantity. For more information, email kater@rexcut.com