Quick Change Interleaf Flap Discs Blend Welds and Match Brushed Finishes in One Step
Rex-Cut Abrasives will be introducing a new line of layered quick change flap discs at FABTECH 2016 in Las Vegas. These premium discs are a quick change version of our highly successful Fusion Interleaf Flap Discs. Fusion discs are designed to grind light weld seams and create a consistent finish in a controlled manner in almost no time.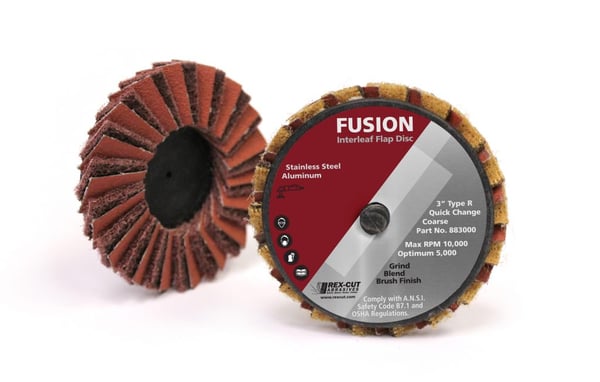 Fusion Quick Change Discs combine premium coated abrasive layers with surface conditioning layers into one interleaf disc allowing users to eliminate steps when finishing tig welds on stainless steel, aluminum, soft metals, and special alloys.
The Fusion line is designed to finish welded railings, finish angles and toothing, break edges, remove milling lines, and create an even finish simultaneously.
Available in coarse and medium grits, these 3" quick change discs will be demonstrated at Rex-Cut's FABTECH booth, N5008. For more product information, please email products@rexcut.com