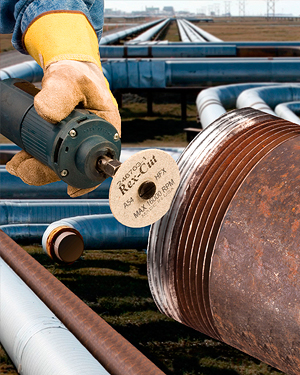 Oilfield Inspection Industry applications calling for rust, corrosion, and threadlock removal from pipe and couplings have had success using Rex-Cut Type 1 wheels because of their forgiving nature.
Rex-Cut Type 1 GFX and HFX wheels are ideally suited for rust and corrosion removal from pipe threads. GFX and HFX wheels feature multiple layers of non-woven cotton fabric and aluminum oxide abrasives pressed and bonded together with a soft bond. This construction allows for new grain to constantly be revealed as the wheel works while the cotton construction makes the wheel resilient and smooth running.
For threadlock removal without changing the thread geometry, Smooth Touch wheels with a medium bond are recommended. Additionally, Smooth Touch lasts up to five times longer than unitized.
Developed for use on stainless steel, Inconel, and other high-alloy pipe and tubing, Rex-Cut Type 1 and Smooth Touch Wheels are available 1/16", 1/8", and 1/4" thick and 2", 3" and 4" sizes. Samples and pricing are provided on request.
Looking for more thread deburring information?