At Rex-Cut, we view every piece of metal that our abrasives touch as works of art, crafted by the skills and talents of the fabricators that create them. But Mark Wabol, owner of Hot Metal Designs, is a Rex-Cut customer who has made an impressive name for himself by putting his fabrication skills to use creating beautiful pieces of art to display in public spaces and private homes.
Based in the Tampa area beach community of Indian Rocks Beach, one of Wabol's preferred mediums is aluminum because of its durability. "The active outdoor lifestyle of Florida is an environment where people like to install artwork in areas that are affected by the salty air," says Wabol. "Many metals will corrode quickly in this harsh environment, but aluminum stands up quite well and maintains its beauty, even when installed right along the water on docks."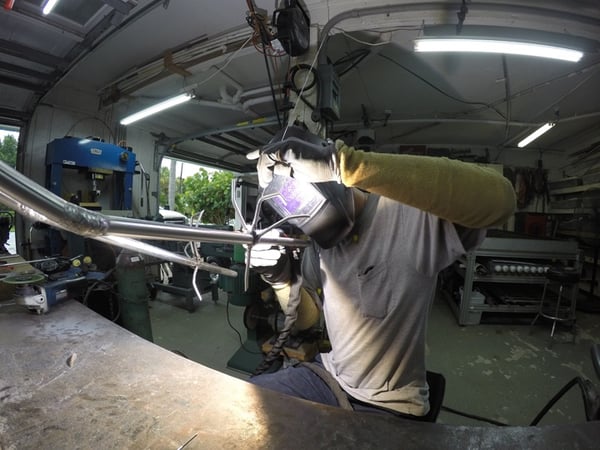 A professional welder, Wabol knows a thing or two about different types of metal. He spent twelve years working as a high precision welder, a career that gave him experience fabricating a variety of products like medical equipment, which demanded meticulous attention to detail. In his spare time, Wabol can still be found building engine mounts and exhaust systems for boats, but his passion and primary source of income is his art.

The complexity of his designs has led Wabol to seek the best tools for each job, and he relies on ¼" Sigma Green Max Grinding Wheels for much of his high volume work. Sea turtles are popular with Hot Metal Designs customers and Wabol uses them frequently in his creations. "I make a lot of sea turtles and I like to give the flippers a 3-D texture, which requires removing quite a bit of material," explains Wabol. "When I tried to do this with grinding stones, they loaded up and flap wheels only lasted one flipper before I needed to replace them. But Sigma Green Max Grinding Wheels hold up very well and can remove a lot of material without requiring wax or paste, which tend to be very messy."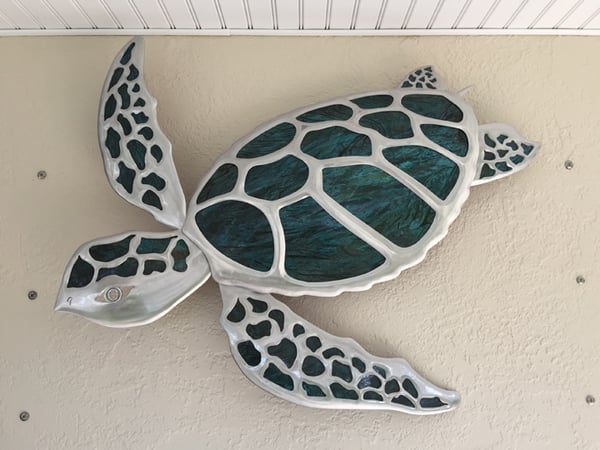 Wabol's highly detailed sculptures often require him to assume awkward positions to get the perfect angle on the metal, and safety is his top priority. Minimizing chatter and vibration is crucial for both protecting himself and creating the best finished product, so it is a large concern with selecting which tools he works with. The stability provided by Sigma Green Max Grinding Wheels is a key feature that keeps him a satisfied Rex-Cut customer.
"Even in the Florida heat, you'll find me wearing a full face shield, respirator, gloves, long pants, and Kevlar sleeves while I work," says Wabol. "The reduced chatter and vibration of Sigma Green Max allows me to keep productive in my shop longer and produce higher quality work while reducing the risk of an accident or facing hand-arm vibration syndrome down the road."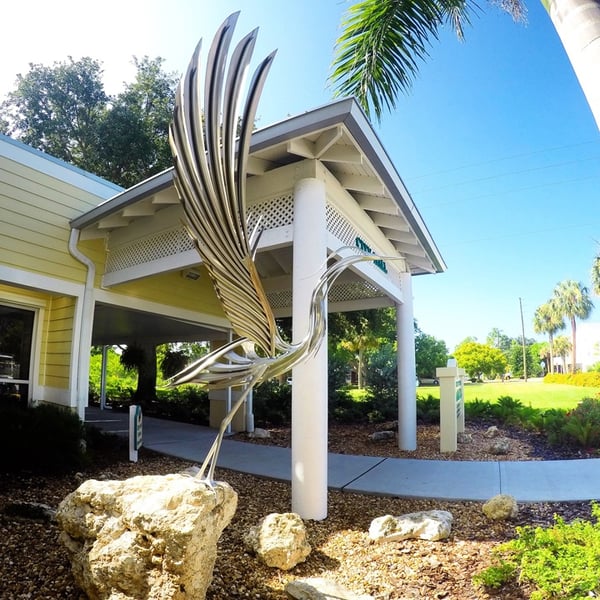 As an entrepreneur without the deep pockets of corporate ownership or a staff of employees, Wabol feels savings in time and expenses personally. "I can say for sure that the material removing capabilities of Sigma Green Max has cut down expenses by at least 50 percent due to the longevity of the product, which keeps me from having to constantly buy flap wheels or grinding stones. But the biggest thing is frustration factor," laughs Wabol. "I'm less fatigued at the end of the day, I spend less time changing out equipment, and I'm protecting my health. You can't put a price on that."
Rex-Cut is proud to have Mark Wabol as a loyal Sigma Green Max wheel user. What type of beautiful product can we help you create for your customers?