Stainless steel has been used in architecture since 1922 and is the material responsible for some of the world's most recognizable buildings. The top of the Chrysler Building utilizes stainless steel cladding to accentuate its signature Art-Deco style and the eye catching metallic curves in many of Frank Gehry's famous designs could only be accomplished using stainless steel.
There are many reasons why stainless steel has become so popular among architects, and its properties continue to serve modern sensibilities. The diversity of finishes possible on stainless steel serve almost any aesthetic imaginable from completely flat to highly reflective. Perhaps the biggest reason the metal achieved such rapid popularity, though, is because of how formable it is. From sweeping curves to intricate lattice designs, stainless steel is the metal of choice for the most innovative and creative designs in architecture today.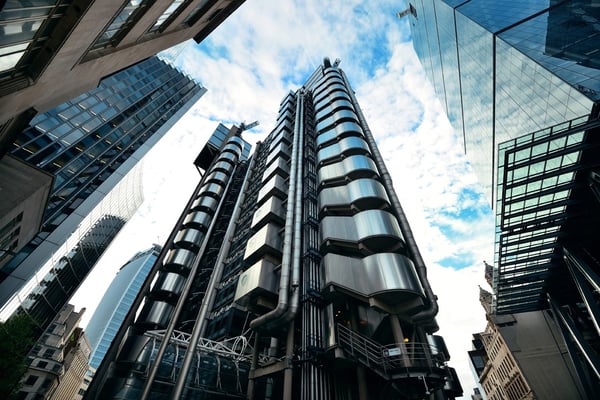 The Lloyd's building, London
But the advantages of stainless steel go far beyond its visual appeal and versatility. Its self-cleaning properties and resistance to corrosion, rust, and staining give it a longevity that is attractive for buildings expected to enjoy long lifespans. Stainless steel is also enjoying a surge in popularity because of sustainability concerns. Not only does production of stainless steel result in fewer emissions than other metals, it is easily recycled. In fact, it is estimated that 80% of stainless steels are recycled at the end of their lives.
The recyclability of stainless steel makes it sought after by architects seeking LEED certification for buildings. Stainless steel can also be finished to reflect heat away from buildings without causing glare, which reduces energy consumption for climate control. Similar finishing techniques are able to reduce light pollution in environments where that is a concern.
Like all metals, stainless steel must be welded at joints to create shape and structure. To preserve the reasons why architects love stainless steel so much, those welds must be performed with precision to maintain the strength and beauty of the metal. Much of this work must be completed on-site in less than optimal conditions that can involve environmental factors and difficulty in maneuverability.
Grinding and finishing the welds brings the same challenges and boosting the efficiency of the process reduces exposure to risk and costs. One key way to achieve this is by using abrasives that minimize the time spent on each weld and limit the downtime required to change tools.
Sigma Green Max grinding wheels from Rex-Cut Abrasives grind stainless steel welds extremely fast without sacrificing life or finish quality. These high performance grinding discs remove stock fast while running smooth and quiet. Sigma Green Max is engineered to achieve physical balance, eliminating chatter and reducing stress on operators, in turn making it an easy and efficient product to use even on hard to reach welds.
Due to its proprietary grain and bond structure, this aggressive wheel generates low heat, preventing bluing of the metal.
Stainless steel is enjoying the highest growth rate of any material in the world, a trend that can be expected to continue as even more creative architects and designers create landmark structures with aesthetics, durability, and sustainability in mind. Keeping informed of best practices for grinding and finishing welds on stainless steel surfaces keeps fabricators marketable and gives them access to work on the best projects.
Sigma Green Max abrasive wheels give you the capability to maximize efficiency and quality when working with stainless steel. For product specifications, download the product data sheet here.